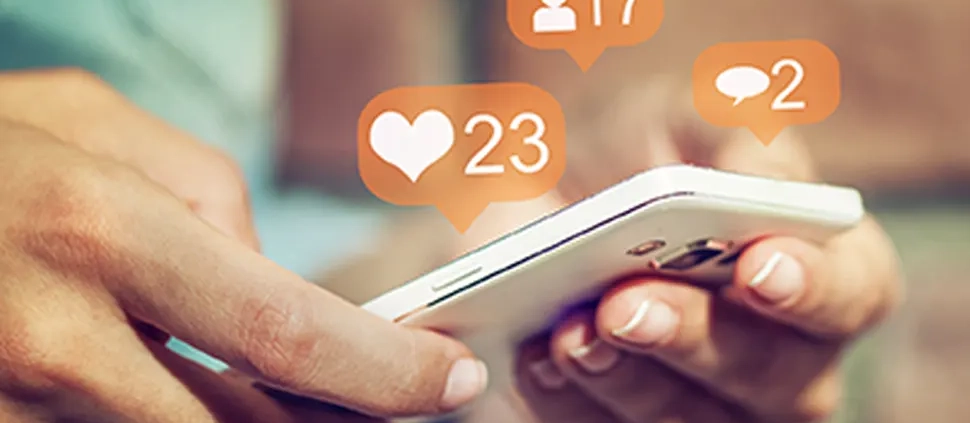 Bringing Service to the Client: Why a Social Contact Center is Essential for Modern Customer Service
One year in, the COVID-19 virus has changed just about everything—from the way we work to the way we shop to the way we connect with each other via social media.  The pandemic ushered in a brand new normal. For many, that meant flocking to social media platforms to stay connected with friends and family when quarantines and social distancing prevented in-person interactions.
In fact, Americans' average usage of social media during the pandemic climbed to 82 minutes per day in 2020, a seven-minute jump from 2019 levels.  According to eMarketer date, visits to TikTok's website grew nearly 600 percent on average in 2020 while Instagram activity increased 43 percent, Twitter 36 percent and Facebook 3 percent (still impressive considering high popularity of the channel).
Meanwhile, consumers stuck in quarantine mode flocked to niche social media channels based on common interests, what some refer to as social+.  Clubhouse, Textdoor and Goodreads are examples of some emerging social channels taking hold during the Pandemic.
In its sixth annual "State of Marketing" report, Salesforce reveals that in the wake of the COVID-19 pandemic, standards of customer engagement are shifting yet again, requiring enhanced strategies and innovation.
More than ever, today's brands require customer care strategies that are iterative and innovative. They must grow and evolve to meet the needs of the changing market. In response to the changing digital landscape that finds more and more people conducting daily interactions and transactions online and on social media platforms, many businesses are beginning to recognize the value in having a social contact center.
Social media and customer relations management (CRM)
A social contact center operates as a customer care center on social media platforms, and these centers are proving themselves to be a powerful and robust customer service tool. Why spend lengthy amounts of time on hold in a phone queue, when you have the option of spending just a few seconds to send a message that is often responded to far more quickly. The reality is that if you are not already leveraging the power of or considering the implementation of a social contact center, your competitors may already be steps ahead of you in their ability to deliver better customer service. Consider the following statistics that provide insight into customer relationships with brands online:
Nearly two-thirds (63%) of customers expect companies to offer customer service via social media channels.
90% of social media users have already used one or more social media platforms to communicate with a brand or business.
42% expect a response within an hour of submitting a post or message—32% of these individuals expect it within 30 minutes, and 11% expect it immediately.
This change in consumer expectations is in stark contrast to how many companies are actually performing regarding their social media CRM services. While 80% of companies feel their social media customer services are exceptional, only 8% of their customers agree with that statement.
How can a social contact center benefit my business?
The business benefits of having a successful social contact center are incredibly compelling. Not only are you meeting customer expectations and conforming to their preferences, which results in greater customer loyalty, but you open up your business to a multitude of other effects, including:
Cost savings. The average cost of solving a customer complaint or problem is approximately one-sixth of a typical call center interaction, costing $1 rather than $6. This is a tremendous opportunity to save on operating costs.
Better resolutions. Social media call centers are approximately 178% more effective than voice alternatives. Resolutions are also generally reached much quicker using social contact centers, many times occurring in real-time.
Generating buzz. Nearly three-quarters (71%) of customers with positive social contact center experiences report that they are likely to recommend the brand. Word of mouth remains one of the best advertising methods available and using a social contact center appears to be an easy way to leverage this type of user-generated buzz.
Round the clock support. Social media interactions with customers can occur round the clock, from anywhere, meaning that support can happen when the client needs it, not just during business hours.
Data tracking. In the modern digital age, information is crucial—it is at the very heart of almost all strategic business decisions. Social contact centers allow you to track and trend insights about your brand, your strategy, and your customers.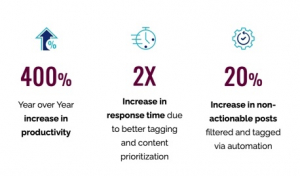 Consider the example of one major Food and Beverage brand that sought a social media solution to address negative brand sentiment and maximize social interactions. HGS, working in concert with its social media management partner, Sprinklr, leveraged machine learning technology and training to generate customer-level engagement and identify customer issues that need resolution.  Additionally, HGS put together a playbook that included rules of engagement, best practices, process and workflow, quality management program, case management and design, reporting and KPIs, ideal agent profiles and a comprehensive training program.  Results included a 400% YoY productivity increase 2X increase in response time and a 20% increase in non-actionable posts filtered and tagged via automation.
Selecting a social media channel
Choosing the right social media platform is critical if you want to reach your target audience. Many large companies engage consumers on several platforms simultaneously. Discovering the right platform(s) for your business can be achieved by following three steps.
Define your audience. Each of the platforms appeals to different target demographic groups, exists for different purposes, and has different strengths and weaknesses. For example, Twitter is excellent for public relations but has a limited ability to build lasting customer relationships. Breaking down your audience to understand where you can find them digitally is the first step in understanding how to best reach them.
Identify your goals. The differing strengths and limitations of the various platforms come into play when you know and can explain clearly what your goals are in your customer support strategy. Social media can function to drive brand recognition, inspire brand interest, and improve customer relationships, among other things. Be sure your platform(s) are ones that are compatible with your goals.
Find your audience. When you know your goals and who your audience is, you simply have to match them up with the best platform. Commonly used ones include Facebook, Twitter, Pinterest, YouTube, LinkedIn, and Instagram.
Building a successful social contact center
Knowing your audience and identifying where you can find them digitally is only half the battle, though, once that is won, you still need to implement a social contact center powered by a contact center AI and ensure that it is successful. The best way to do this is to:
Set goals. You must understand the key performance indicators that you will use to measure your progress towards your goals. Once this is done, you can then start measuring them accurately and analyzing this data in an actionable way—one that sheds insight into improving strategy.
Allocate resources. A social contact center is only going to work when it has the right people, technologies, and processes to make it successful.
Reassess strategy. If you aren't meeting your customer service goals (e.g., increased customer satisfaction or customer loyalty) with a social contact center in place, you need to leverage its tools and data to help you understand how to re-frame your strategy in a better way. Collecting and analyzing data related to each failed goal will often give you the knowledge you need to ultimately find success.
As consumer preferences continue to shift and technological capabilities increase, more of our daily lives are going to take place online, if not directly on social media platforms. These centers represent a core component of any modern customer service strategy.
Power up your customer experience (CX) ecosystem with a simplified and unified technology solution – HGS Agent X.
https://hgs.cx/wp-content/uploads/2021/06/social-media-surfing.webp
600
970
Virgil Wong
https://hgs.cx/wp-content/uploads/2021/10/HGS-Logo_Blue-DK-Grey.svg
Virgil Wong
2021-05-26 10:07:00
2023-08-14 10:17:16
Bringing Service to the Client: Why a Social Contact Center is Essential for Modern Customer Service