Preparing for the Post-pandemic rise of Digital Nomadism
When COVID-19 subsides and travel restrictions are lifted, it's likely many workers will require more flexibility, including global, remote working opportunities, from their employers.
Affected by the pandemic, many employees will trade the goal of climbing the corporate ladder as the ultimate definition of success for one that provides greater meaning. Many will turn their thirst for travel into a way of life.
National Geographic notes that ‒ "Freelancers, entrepreneurs, and the self-employed have made up the majority of the digital nomad crowd, but this could change as more companies reevaluate work culture after six months of remote log-ins." Gen Y and Z employees – who usually make up a portion of the contact center population – are particularly driven by unique experiences over money. (Haven't we all dreamed of sipping a morning espresso, taking a dip in the Mediterranean, and then logging into work from a desk overlooking the Italian coastline?)
Many of the lessons and tools from the contact center Work@Home movement can serve as a foundation for digital nomadism. Mastering a domestic Work@Home program is a natural first step before enabling employees to work remotely from another country.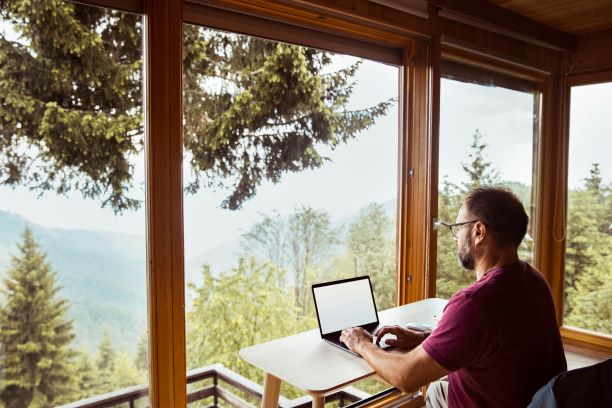 Work@Home concepts can be applied to keep established, high performing teams together as well as attract new employees with a desire to travel. Digital nomads tend to be curious, friendly, self-motivated, creative, organized, results-oriented, resourceful, and adept problem solvers. These are desirable traits for many employers, particularly contact center managers.
Work@Home elements that enable digital nomadism for your team
Since launching Work@Home in 2016, HGS has identified factors for engaging and retaining a remote workforce. These elements must be in place and optimized prior to any digital nomad trial:
Virtual recruiting – Set the tone for what the remote work experience will be like with virtual recruitment. Using tools like Facebook Messenger, actual contact center telephony, online assessments, background checks, electronic signature software, and recruitment bots, a Work@Home recruiter is uniquely equipped to convey the advantages of the job, share personal experiences, answer questions, and gauge candidates.
Cloud contact center technologies – Cloud contact center AI technologies, such as Twilio, enable employers to assign tasks, monitor performance, and gauge CSAT results from agents who are logged in from anywhere in the world. HGS Digital recently implemented a Twilio contact center solution and fully transformed one contact center into a remote work environment in 27 days. From a technology perspective, launching a digital nomad option is possible within weeks.
Team connectivity tools – Managing Work@Home employees requires a unique set of skills, approaches, and tools. Web conferencing, webcams, and team chats facilitate connections among dispersed team members. Our Work@Home ebook on managing Work@Home agents describes virtual relationship-building in some detail.
Virtual training for agents and team leaders – Delivering virtual curricula, virtual on-the-job training, and virtual side-by-sides for coaching are important for attracting and keeping employees with digital nomad characteristics. Training modules that cultivate virtual leadership skills create career paths for highly motivated, experience-hungry individuals.
Creative scheduling –

Agent self-scheduling

 can enable employers to match employees with customer demand, drive better agent performance, and enable digital nomads to schedule shifts at times that mesh with their time zone or travel schedule.
Understanding of local laws and geographical differences – At HGS, Work@Home agents designate a home base and follow the laws applicable to that home office. HGS's Work@Home program developed over time — province-by-province, state-by-state on a national level — to ensure solid understanding and adherence to all agents' local laws prior to expansion. HGS is now taking its Work@Home capabilities global and has built a Work@Home center of excellence to look at what's next for remote employees worldwide.
Contact center employers (especially those looking to harness the energy of younger workers or to keep a stellar team intact) must prepare for a post-COVID-19, digital nomadic world. Offering not only remote work, but digital nomadism could be a contact center recruiting tool in the future.
Adopting more nimble technologies, policies, and approaches to working and taking the first steps toward mobilizing and globalizing the workforce NOW will ensure preparedness and flexibility post-pandemic. Contact us to get started in creating a Work@Home strategy that caters to digital nomads.
https://hgs.cx/wp-content/uploads/2018/10/Brian-on-a-Yacht_blog-sized-1.jpg
274
441
Virgil Wong
https://hgs.cx/wp-content/uploads/2021/10/HGS-Logo_Blue-DK-Grey.svg
Virgil Wong
2020-12-21 20:45:14
2023-08-14 04:26:50
Preparing for the Post-pandemic rise of Digital Nomadism