HGS's 2020 Highlights: Achievement Amidst Adversity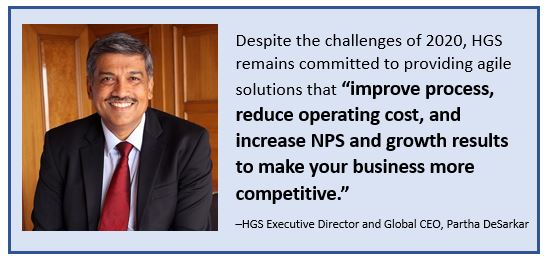 In 2020, the COVID-19 world health crisis impacted nearly every person and business around the globe, including HGS, our employees, and our clients. When many of our everyday tasks and operations began to require a different approach, we resolved to keep things running safely and securely.
As we begin 2021 with hope and optimism around additional opportunities for success, we're excited to reflect on key accomplishments achieved over the past year, announce new partnerships, and share details of several awards and recognitions we earned along the way.
Key accomplishments
HGS Work@Home migration and virtual recruitment
When COVID hit, we moved 21,000 employees to work from home in just two weeks and have since hired 8,700 more remote employees. HGS Work@Home includes 100% virtual recruitment, hiring, training, engagement, operational performance, security and dashboards/reporting.
QuickEntry health status questionnaire app
In an effort to help keep HGS employees as well as clients' employees safe, we developed and released QuickEntry, a mobile app that determines an employee's COVID-19 risk class prior to shift duty via the completion of a health status questionnaire. The app's features include proactive assessment reminders, daily alerts, real-time dashboards, a chat function for agent support, and up-to-date COVID-related information.
HGS PULSE data analytics platform
We launched HGS PULSE™, a contact center data analytics platform that provides visibility into business performance and customer insights, with access to predictive analytics and real-time information, enabling HGS clients to proactively predict customer churn, as well as manage workforce by tracking customer demand.
Recruiting bot efficiency
In an effort to streamline the recruiting and hiring experience, HGS created Sophie™, a recruiting bot that handles the entire recruiting process from start to finish, enabling job offers to go out the same day a person applies.
Partnership expansion
HGS Digital is an Automation Anywhere Platinum Partner, as one of their most trusted process automation partners
We are Sprinklr's preferred systems integration and managed services partner based on our EPIC Social Care offering
We are recognized as a partner with outstanding social and analytics platforms built into Twilio's cloud offerings
We are one of only 12 partners recognized by Amazon Web Services (AWS) Contact Center Intelligence for adding intelligence and machine learning into existing contact centers
Awards and recognition
HGS PULSE won a Customer Experience Innovation Award presented by TMC, the TMC Cloud Computing Excellence Award, and a Golden Bridge Business and Innovation Award
Our Jamaica location was rated a top 10 employer in Jamaica by Glassdoor, and the #1 BPO employer
Everest Group recognized HGS as a Major Contender and a Star Performer in its Healthcare Payer Operations Services PEAK Matrix® due to significant growth in the healthcare payer BPO business, being one of few service providers to have end-to-end healthcare payer offerings, and being one of few service providers with a mature offering in risk-adjusted payments
HGS was selected by the UK's Crown Commercial Services G-Cloud 12 Framework as an Approved Supplier, which allows HGS to supply cloud and digital workforce solutions to government departments, enabling advanced cognitive contact center capability
HGS is equipped to assist current and future clients achieve their business goals in 2021. Contact us today at 1-888-747-7911 to schedule a free consultation.
https://hgs.cx/wp-content/uploads/2021/01/2020-review_GettyImages-1280495483.webp
1200
1800
Virgil Wong
https://hgs.cx/wp-content/uploads/2021/10/HGS-Logo_Blue-DK-Grey.svg
Virgil Wong
2021-01-12 17:56:58
2023-08-14 04:33:35
HGS's 2020 Highlights: Achievement Amidst Adversity