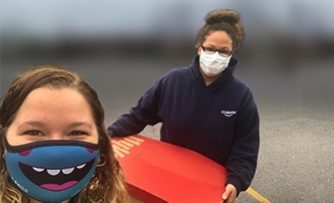 HGS Focuses on Giving During Holiday Season
"If you want to go fast, go alone. If you want to go far, go together."
With COVID-19 efforts, rapid work-at-home migrations, and numerous global change movements top of mind, this African Proverb rings particularly true this year. Demonstrating love, empathy, patience, and support is essential. Diversity, equality, and inclusion (DEI) are more important than ever.
HGS employs 37,000 people in 60 global delivery centers in seven countries. The potential to make a difference, together, is enormous.
While every HGS office is encouraged to "think global, act local" and support causes that are meaningful locally, there are corporate social responsibility themes that bind all HGS sites together. HGS's focus on DEI, its "Work to Give for a Better Tomorrow" philosophy, and its charitable focus on education, healthcare, skill development, empowering persons with disabilities, and veterans all link back to the industries and communities we operate in.
COVID-19 has not stopped HGS from giving back, sharing, or growing
While more employees are working from home and large-group, in-person volunteerism in the community has decreased due to COVID-19, the pandemic has not deterred employees from giving to and sharing with their colleagues and beyond.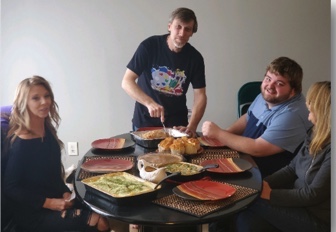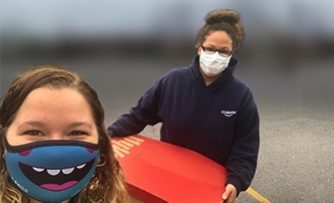 The Diversity, Inclusion, and You (DIY) team in Peoria, Illinois, for example, is still planning and executing an active DEI and charity program for the 800 employees in that area.
"I'm overwhelmed with tears of joy. After finding out I had Covid-19 last week, I knew I wouldn't be able to cook for Thanksgiving…"
Unfortunately, many families there are struggling with illness, loss, and financial strain today; the DIY team is working to support them while breaking down DEI barriers.
For Thanksgiving, the DIY team organized a series of raffles to purchase and deliver 30 Thanksgiving dinners to 30 agent families who needed them.
"This comes at a time when we could use it. I did not know how we were going to pull off Thanksgiving, but thanks to this effort, we were covered."
Peoria agents anonymously nominated peers in need and delivered fully prepared meals with caring messages to recipients' homes.
Raffle participants not only enjoyed lifting the spirits of others but also had the opportunity to win small appliances or grocery gift cards to enrich their family festivities. Some of these winners paid their prizes forward contributing to a flurry of giving.
More holiday charitable activities ahead
Kelsey Winter, an assistant training manager in Peoria (shown with the smiley mask), has noted that the DIY team is organizing a December charitable event, too. The plan involves nominating and sponsoring approximately 10 families and showering them with Christmas gifts. The goal is to touch one deserving agent from each of the client accounts operating from Peoria.
In 2021, the Peoria DIY team aims to continue its charitable efforts and deliver on its multifaceted DEI awareness program. The goal is to not only educate, support, and effect positive change internally but also to engage, if COVID-19 allows, with local organizations such as the Tri-County Urban League, Dream Center, and Ronald McDonald House.
Peoria is merely 1 HGS location of 60, and its grassroots efforts represent only a portion of the positive change work that employees are doing. In any given month, there are likely 30 other events happening at HGS globally at the same time. Examples of recent efforts by the Peoria team shine a light on how we can accomplish more when we work together to achieve a common goal – charitable, business, or otherwise. Working to give together (while staying apart) is sustaining hope for a better tomorrow.
https://hgs.cx/wp-content/uploads/2020/12/9865CCEF-2F64-4A69-BEE0-314532990E25_4_5005_c.jpeg
203
334
Virgil Wong
https://hgs.cx/wp-content/uploads/2021/11/HGS-Logo_Blue-DK-Grey.svg
Virgil Wong
2020-12-07 13:39:22
2023-08-14 04:28:07
HGS Focuses on Giving During Holiday Season